SMI Audit
Sustainability Reviews and Technical Consultancy
FIMI-SMI has been assisting and advising mining companies to continually improve their sustainability performance through its Sustainability Review System. It covers 5 key aspects for a mine – compliances, economic, environmental, social and health & safety performance.
SMI's Sustainability Review helps the mines to:
Evaluate the present environmental and safety performance of the mine (both from compliance as well as sustainability perspective)
Identify productivity enhancement measures and improve mine's operational performance
Review the social welfare activities undertaken for neighboring communities
Help to improve performance for achieving required Star Rating
Manage regulatory risks and compliance system in the mine
Stay updated about regulatory changes and take preparatory action well in time
Identify best practices for implementing in the mine and areas of further improvement
Effectively communicate its sustainability goals to the management
SMI has a team of domain experts having hands on rich experience, knowledge and insight into the regulatory & policy framework and international sustainable mining practices.
SMI has cumulatively completed 106 sustainability reviews for various types of minerals. SMI has helped these mines to review their overall performance (both from compliance as well as sustainability perspective) and identify critical areas of improvement, comply with statutes and reduce long term risks. SMI also undertakes customized studies as per client requirement such as specific Health & Safety reviews, R&R review, etc.
During the financial year 2021-22, SMI has completed 19 Sustainability Review viz 9 Iron ore mines of JSW Ltd., 6 Iron ore mines of NMDC Ltd, 1 Magnesite mine of Tamil Nadu Magnesite Ltd and 3 Bauxite mines of Hindalco Industries Limited.
SUSTAINABILITY REVIEW SYSTEM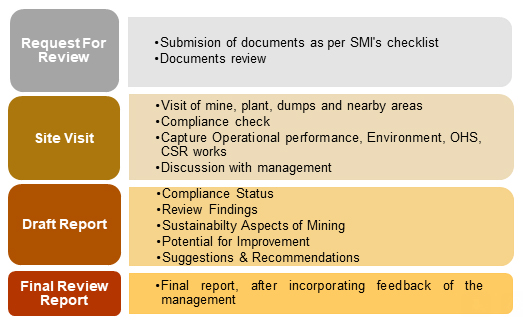 List of Sustainability Reviews completed
S. No.

Name of the Company

No. of Mines

Sustainability Review

Ambuja Cements Ltd., Himachal Pradesh, Maharashtra, Chhattisgarh, Rajasthan, Gujarat (Limestone)

9

Vedanta Limited, Goa & Karnataka (Iron ore)

5

Mineral Enterprises Limited, Karnataka (Iron ore)

2

Mahavir Trading Company, Rajasthan (Soapstone)

1

S N Mohanty, Odisha (Iron ore, Manganese, Bauxite)

4

Wolkem Industries Ltd., Rajasthan (Wollastonite)

2

H L Nathurmal, Goa (Iron ore)

1

BALCO, Chhattisgarh (Bauxite)

2

ACC Limited, Karnataka (Limestone)

1

Magnum Minerals, Goa (Iron ore)

2

Penguin Trading & Agencies Ltd., Odisha (Iron ore)

1

Rungta Group, Odisha (Iron ore, Manganese ore)

5

Ultratech Cement Ltd, Karnataka and A.P. (Stone quarries for aggregates)

2

MGM Minerals, Odisha (Iron ore)

3

National Enterprises Ltd. (Iron ore)

2

HZL – Sindesar Khurd Mine, Rajasthan (Lead & Zinc)

1

Golcha Associated Group, Rajasthan (Soapstone)

2

S N Mohanty, Odisha – Follow up Audit (Iron ore & Bauxite)

3

Balasore Alloys Limited, Odisha (Chromite)

1

NMDC Limited, Chhattisgarh (Iron Ore)

6

MGM Minerals, Odisha (Iron & Manganese ore)

1

S N Mohanty, Odisha (Iron ore, Manganese ore, Bauxite)

3

M G Mohanty, Odisha (Iron ore & Bauxite)

2

Hindalco Industries Limited (Bauxite)

2

Hindalco Industries Limited (Coal)

2

Andhra Pradesh Mineral Development Corporation, AP (Barytes)

1

A.P. Trivedi & Sons Pvt. Ltd, Madhya Pradesh (Manganese ore)

1

Atha Group, Odisha (Iron ore)

1

BALCO, Chhattisgarh (Bauxite)

2

Balasore Alloys Ltd., Odisha (Iron ore)

1

NALCO, Odisha (Bauxite)

1

Hindalco Industries Limited, Jharkhand (Bauxite)

4

BALCO, Chhattisgarh (Coal)

1

NMDC Limited, KIOM, Karnataka (Iron ore)

1

JSW Steel Limited, Karnataka (Iron ore)

9

NMDC Limited, BIOM- Kirandul Complex, Chhattisgarh (Iron ore)

3

NMDC Limited, BIOM - Bacheli Complex, Chhattisgarh (Iron ore)

2

Tamil Nadu Magnesite Limited (TANMAG), Tamil Nadu (Magnesite)

1

Hindalco Industries Limited, Chhattisgarh (Bauxite)

3

96

Review of Progressive and Final Mine Closure Plan

40.

NALCO, Odisha (Bauxite)

2

Health & Safety Review

41.

Karnataka State Minerals Corporation Limited (Iron ore, Chromite, Magnesite)

8

Total

106